Disney World: Advice for First-Timers
After recounting all of our various Disney World experiences (here, here, and here), it seems appropriate that I share some tips for others seeking to visit the "greatest place on earth." These are my top five rules for first-timers.
Do your research. I fretted over all the time I spent reading and studying and planning before we went. It was worth every solitary moment. Seriously. Our trip was relaxed and fun. Everything did not go according to plan, but we knew what to expect and where to find things. We knew in advance how we would spend our days and that helped tremendously in avoiding mishaps and frustration. We didn't feel like we had to do "everything" because I already knew which things our kids could handle and which rides were best avoided for their ages and sensibilities. I knew where good rest stops were and where to find snacks. Rick and I had prioritized our activities and our agenda, so we were confident that we would do and see the things most important to us. The rest was just frosting. And we got lots of that extra "frosting" each day!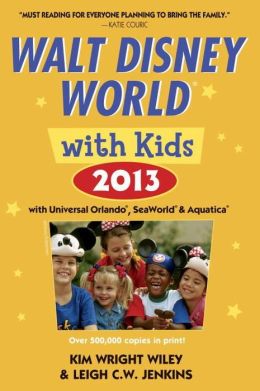 I've mentioned "the book" in a number of other posts. Let me reiterate the recommendation. If you plan to go to Disney and you have children, get yourself a copy of Fodor's Walt Disney World with Kids. It is an annual publication supported by a frequently updated website. It is absolutely indispensable. I'm not kidding.
Refuse to sleep in. I know, I know … you're on vacation, but trust me. You can sleep later. We are naturally morning people, so this wasn't hard advice for us to follow, and we did take rest time in the afternoons on more than one occasion. The truth is that the parks are nearly empty for the first hour or more. Everyone wants to sleep in which means those who get there early get the park to themselves and have no lines. It's great!
One day we made reservations to eat breakfast at Cinderella's Castle (The Royal Table). Our reservations were for 9am and since the park doesn't open until 9am, they actually let us in early. That may be one of my favorite memories: me and Ellie skipping down Main Street all by ourselves. It was so fun!! The whole of Magic Kingdom opened just for us … now that's pretty magical.
Prioritize according to your family's style. Not everything appeals to everyone. Sure, Fantasmic may be spectacular. Everyone says it is! But after reading the description and reviews, we knew it wasn't for our family. We also knew that, since we weren't planning to spend excess money on toys or souvenirs, spending a whole day in Downtown Disney would be more frustrating and exhausting than enjoyable. Other families, however, may love these things! They may find the highlight of their trips there and be completely bored in Animal Kingdom, where we had the most fun.
Likewise, consider your stay as well. I have several friends who choose the cheapest resorts because they figure they're never in their room anyway, so why spend the money? We, however, prioritized the resort highly. We loved having a beautiful place to relax in the afternoons and evenings. We loved staying in an excellent location.My point is this: don't stress over getting to stuff that "everyone" loves if it's not something you and your family will love. Instead be deliberate about planning your vacation specifically for you and your family.
Choose character meals wisely. This tip piggy-backs on #3.
Character meals are fun because the characters come right up to your table in the restaurant. The kids love it. In theory, this is a great way to meet them without having to wait in lines. Knowing it was our first visit, our travel agent made us reservations for several character meals, but after our first day, we quickly discovered that, because we were there in February and not July or August, there weren't long lines to meet these same characters around the parks. We could actually get to them with relatively no trouble … and without the heat-lamped food.
Rick and I are foodies. We love good food. If you really love good food, avoid character meals. They're not terrible, necessarily, but most are buffets of bland, seemingly processed foods. These restaurants cater to families of young children and the focus, as it should be, is on Pooh and Mickey and Prince Charming and all of those lovely characters — not the quality cuisine. (The exception to this is The Royal Table. The food there was actually fantastic. No buffet in sight.)
While our agent was right — we don't like waiting in lines — we would prefer waiting in a short line (or in many cases no line at all!) to meet these characters rather than spending an hour or two with ho-hum food waiting for the characters to come to us.
If you visit during peak seasons, character meals may totally be the way to go. But if you go during the winter, like we did, you may want to limit how many of these you book. For us, one would have been enough. If you only book one, I recommend Chef Mickey's (at the Contemporary Resort) or The Royal Table (in Cinderella's Castle).
Take your good camera. This was a question I asked everyone before we left: Which camera should I take? Faithful followers of this blog know that last summer I finally (after two years of waiting and saving) got a digital SLR. I L-O-V-E it and the quality of photos it takes, but most of the books I read recommended packing light for each day. So, I asked friends who had been there. All of them asked me in return: "How would you feel if something happened to your good camera?"
That was enough for me. I left my sweet SLR at home and took my tiny "disposable" digital. Bad choice.
All week long — I'm not kidding. ALL. WEEK. LONG. I regretted that decision. I kept missing pictures I know my other camera would have captured. The lighting was wrong, the shutter speed too slow, the zoom insufficient …
Yes, you want to protect your cameras and you don't want to risk losing them or having them damaged. But if you're careful, you can absolutely survive Disney with a good camera. I saw tons of other people doing it just fine. And next time — if there is a next time — I'll be one of them.